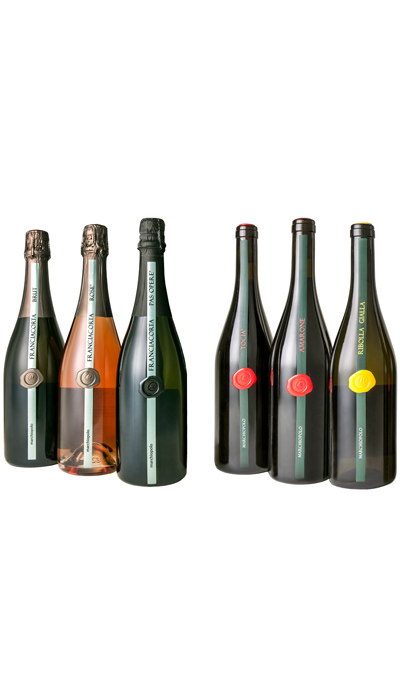 "For dad"
AMARONE DELLA VALPOLICELLA
This Amarone is a blend of Corvina (80%), Corvinone and Rondinella grapes. The wine is aged in oak casks for 36 months and subsequently in the bottle, to achieve highly evolved notes, ranging from fruit to sweet spice, pepper and tobacco. The long, complex palate is soft and nicely balanced.
TOCIA'-VALPOLICELLA RIPASSO
The wine is a blend of Corvina Veronese (50%), Corvinone (30%) and Rondinella (20%) that is refermented on the lees of Amarone and Recioto, before ageing in oak casks and then in the bottle. The result is particularly intriguing, with notes of morello cherry, raspberry, tobacco, and leather, revealing good balance and a long finish.
COLLIO RIBOLLA GIALLA
This is the native Friuli grape variety that gives the best expression of terroir. This modern interpretation of the "queen of Oslavia grapes" vaunts a highly alluring nose and palate that offer stunningly forthright pure fruit.
FRANCIACORTA ROSE'
From the quintessential home of italian sparkling wines comes this brut rosé that it's aged on the lees for at least 24 months before disgorgings. The wine is a blend of 55% Pinot Noir and 45% Chardonnay, the strength of red grape and the fineness of the white together in a romantic union, for all special occasions. Fruity nose with citrus and red fruits scents. Fairly soft, but fresh and tasty.
FRANCIACORTA PAS OPERE'
It is aged on the lees for at least 24 months before disgorging and no liqueur d'expédition is added, thus preserving all its original qualities and heightening the classic yeasty "crusty bread" aroma. The nose offers rich, fruity grassy notes that mingle with the bready bakery aromas, while the palate is very dry but not harsh, with good balance and length.
FRANCIACORTA BRUT
The wine is a blend of 90% Chardonnay and 10% Pinot Nero grapes and following fermentation it is aged on the lees for at least 18 months before disgorging. The complex, pervasive nose of sweet flowers and patisserie is accompanied by a dynamic yet soft fruity palate, a generous mousse and a very fine bead.
Box containing:
-1 x 750 ml bottle of Amarone della Valpolicella 2007
-1 x 750 ml bottle of Tocià-Valpolicella Ripasso 2014
-1 x 750 ml bottle of Collio Ribolla Gialla 2017
-1 x 750 ml bottle of Franciacorta Rosé
-1 x 750 ml bottle of Franciacorta Pas Operé
-1 x 750 ml bottle of Franciacorta Brut